Chicago has always been close to my heart. Ever since I was a kid, I wanted to visit the city that I loved because of my sporting heroes – the Chicago Bulls. I finally got the opportunity a couple of years back and got a taste for The Windy City. I had to come back and managed a longer stay this time. I got to explore the city, see some of its best sights and eat some incredible food. It was a really special visit and so here are my top things to do in Chicago!
---
Top Things to Do in Chicago
---
Explore Millennium Park
Millennium Park is right at the heart of Chicago's Downtown area and one of the best places to take a break from the hustle and bustle of the city. The Cloud Gate sculpture (or The Bean as it's more universally known) is one of the most well known sights in the city. There are loads of events and and concerts throughout the year at the Jay Pritzker Pavillion and there is plenty of space for strolling and checking out art around the park. The park also sits on top of parking garages so it is even considered one of the world's largest roof gardens!
 Watch a sports game
Sport is sacred to Chicagoans. Locals are obsessed with their teams and you will struggle to walk very far without seeing someone proudly sporting the colours of their favourite sides. This is also one of the main reasons I was in Chicago – I follow the teams passionately and was in town to watch a few games live! Watching a Cubs baseball game from Wrigley Field's bleachers is a unique experience and seeing the Blackhawks ice hockey team take to the ice was a dream come true for me. Soaking in the atmosphere at home games is an incredible experience (even for non-fans) and tickets are usually pretty easy to come by.
I used Ticketmaster and StubHub to get my Chicago Blackhawks and Chicago Cubs tickets.
Know your teams:
Baseball – Chicago Cubs have won the World Series in 2016 for the first time in 108 years, ending one of the longest title droughts in sport. Chicago White Sox is the other baseball team in town and the one most locals don't care about (no, really).
Ice Hockey – Chicago Blackhawks have won three Stanley Cups this decade (2010, 2013, 2015) and have sold out their home venue, the United Center, every single home game since March 2008.
Football – Chicago Bears haven't had a lot of success of late but that doesn't stop over 60,000 fans attending every home game at Soldier Field. Do what locals do and "tailgate" before the game – a party in the stadium's car park involving alcohol, food and games – it's a true NFL tradition!
Basketball – Most people have heard of the Chicago Bulls. Michael Jordan's incredible performances in the 90s led the team to the legendary "threepeats" – winning the NBA Championship in '92, '93, '94 and then again in '96,'97 and '98
Jog or bike the Lakefront Trail
The 18 mile Lakefront Trail runs alongside the shores of Lake Michigan and is where the locals head to enjoy some exercise or simply get some fresh air. In the summer, beaches that the trail snakes past are full of people sunbathing and playing volleyball. There is also art, parklands and cafes sprinkled along the route. This is one of my favourite things to do in Chicago! You can rent bikes from Bobby's Bike Hike Chicago, just metres away from the trail, who also do cool tours all over the city!
Visit The Field Museum
The Field Museum of Natural History is one of my favourite museums in USA. It houses the most complete T-Rex fossil in the world, named Sue, as well as interesting Ancient Egypt and Americas exhibitions and loads more. The temporary collections are almost always worth checking out too. I've been before but really enjoyed exploring the museum again. I also had a lot of fun in the special Jurassic World exhibition, complete with animatronic dinosaurs and cool special effects! The museum is part of Chicago's Museum Campus that also includes the Shedd Aquarium, Adler Planetarium and Soldier Field football stadium.
Hours: 9am – 5pm
Price: from $22 or free as part of the Chicago CityPASS
Take the Big Bus tour
I am not usually a fan of sightseeing bus tours but I made an exception with Chicago Big Bus Tour. Relaxing on the top deck of the bus is a perfect way to enjoy a drive through the city while learning interesting facts from a local guide. It's also a great option to enjoy the city's stunning skyline while craning your neck to marvel at the countless skyscrapers – safer too, as you won't walk into people/lampposts! I found the comprehensive hop on/off tour a great way to get your bearings in Chicago and see all the top sights!
Hours: Tours start at 9am and buses run every 12-17 minutes until 5pm. Night tours depart at 19:45, 20:15 and 20:45
Price: From $29 if you book online – it's 10% cheaper than on the street!
Shop along the Magnificent Mile
Take a break from all that sightseeing by strolling along this famous stretch of North Michigan Avenue. A premier shopping district in the city, the area is packed with department stores, boutiques and stores representing leading brands. I managed to spend a LOT of money on the Mile so don't say I didn't warn you! It's not just shopping either – some of the city's top hotels also call the street home and there are loads of restaurants and cafes to enjoy around the area. I enjoyed checking out some incredible Chicago architecture here too – including the Chicago Water Tower and the impressive Trump International Hotel and Tower.
Try Chicago deep-dish pizza
You simply cannot leave Chicago without trying its signature food. Chicago deep-dish pizza is the stuff of legends and it definitely lives up to the hype! The origins of the recipe are still subject of heated debates to this day, but you can't go wrong with this delicious creation baked in special high-sided pans. For an authentic experience, and to decide on the best pizza in town head to Lou Malnati's for a classic slice of heaven and Giordano's for its famous stuffed deep-dish! Just be prepared for a food coma afterwards!
https://www.instagram.com/p/Ba-BYrBHgAo/?taken-by=loumalnatis
Get cultural at the Art Institute of Chicago
Art fans really can't go wrong with the Art Institute of Chicago – one of USA's oldest museums. Its huge collections include everything from Byzantine sculptures to contemporary photography via Renaissaince paintings and a Picasso or two. This isn't a museum to skim through – take your time and set aside an afternoon or two to explore its vast interior. Don't miss one of Van Gogh's earliest self-portraits! The Art Institute is one of the most popular attractions in Chicago and shouldn't be missed.
Hours: 10:30 – 5pm daily (till 8pm Thursday)
Price: From $25 or free as part of the Chicago CityPASS
Ride the "L" train
Chicago's rapid transport system, the "L", is a great way to get around the city and explore its outer reaches. The elevated trains allow for great views of the city, especially around The Loop area where you can watch people go about their daily business and spot landmark buildings. It's also one of the best ways to get to Wrigley Field and the United Centre. Tickets cost from $2.25 but I suggest getting a Ventra transit card with a 1, 3 or 7 day pass if you are planning on doing a lot of exploring! It's also one of the easiest ways to get to and from the O'Hare International Airport.
More info: http://www.transitchicago.com/riding_cta/how_to_guides/ridingthetrain.aspx
Feel on top of the world at Skydeck Chicago – Willis Tower
Ok, let's get one thing out the way – above will be only time I will refer to the tower by its current name. To everyone in Chicago, it's still Sears Tower and locals will be all too happy to remind you of the fact should you make the mistake! The Skydeck is one of Chicago's most impressive sights – the views from the building's 103rd floor extending to four different states on a clear day! The brave can tackle The Ledge – glass-bottomed boxes extending four feet outside the Skydeck!
Hours: 9am – 10 pm (March – September), 10am – 8pm (October – February), 365 days a year
Price: From $23 or free as part of the Chicago CityPASS
Check out The Loop
Chicago's downtown area, The Loop, is home to many of the city's sights. The Millennium and Grant parks, Willis (sorry, Sears) Tower and the Chicago Riverwalk are all within walking distance from each other. Many of the city's historic buildings are here and we were lucky enough to visit The Rookery on South LaSalle St with its impressive Light Court and spiralling oriel staircase during Open House Chicago. It's easy to spend a few hours exploring the area checking out the sights, shops and restaurants.
Sip craft cocktails at Three Dots and a Dash
It's rare for a place named one of The World's 50 Best Bars to also be considered a "secret hideaway". But that's exactly what Three Dots and a Dash is. An unassuming doorway, in a small alleyway, leads down into a hidden tiki bar serving some of the best craft cocktails in relaxed surroundings. They are not cheap but are delicious and the elaborate glasses they come in are also super cool. They do food too but good luck getting a table on a busy night!
Hours: 5pm – 2am (Sun – Thur), 4pm – 2am (Fri), 4pm – 3am (Sat)
Address: 435 N Clark Street, Chicago, IL 60654
Stroll along Navy Pier
Chicago's historic Navy Pier extends for 1 kilometre into Lake Michigan and offers plenty of things to do. Its most famous attraction is probably the Centennial Wheel offering 360 degree views of the lake and the city. There are plenty of other rides, restaurants and bars along the pier and numerous boat cruises leave from here. The views of the Chicago skyline are amazing!
Stuff your face at Little Goat Diner
I've heard good things about this place and it didn't disappoint! Delicious comfort food including giant "sammiches", burgers and all-day breakfast pancakes is joined by a wide range of cakes from the in-house bakery and hot drinks from its coffee bar. There is also a small shop and a rooftop for special events. I loved the food and the interior and if you only have time for one American diner in Chicago, make it this one! I went for the delicious Fattoush salad and a local craft beer!
More info: Little Goat Diner
Get wowed at the Museum of Science and Industry
Museum of Science and Industry
in Chicago is one of the biggest
science museums
in the world and is packed with things to see and do. From a
WWII submarine
to a
tornado
(yes, you read that right), there is loads to occupy kids and adults alike. There are countless
special exhibitions, events and fairs
taking place too. The stunning building is also the last still standing from the
1893 World's Fair
in Chicago. If you are looking for something to do with kids, this is absolutely perfect!
Hours: 9:30am – 4pm daily.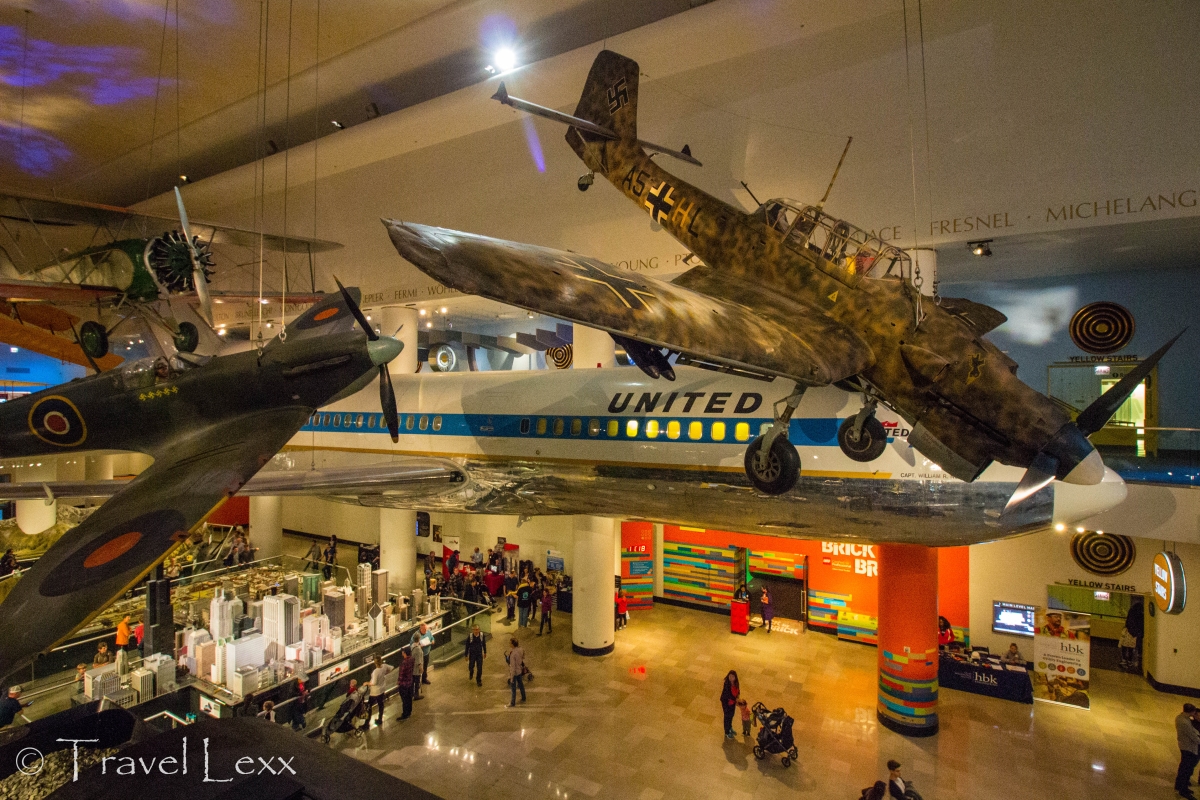 Visit Goose Island brewery
As a fan of Goose Island beer, I really wanted to check out its brewery on Fulton St. west of The Loop. Small group tours allow visitors to go behind the scenes and learn how the beer is made as well as the history of one of Midwest's most successful breweries. I liked that the tour took you to actual working parts of the brewery and not just a special section for visitors. There are plenty of tastings along the way and the well-stocked tap room is great for relaxing before or after the tour. You also get a souvenir to take home after the tour!
Book your Goose Island Brewery Tour & Tasting here.
Discover hidden treasures during Open House Chicago
I was lucky enough to be in Chicago during the
Open House weekend
– a free annual festival that opens the doors to over
200 buildings
around the city. Some of these are not usually open to the public so it was cool to check out a few of the places with everything from
theatres and offices to mansions
and
universities
inviting visitors in. There are
tours, talks and events
during the festival and it's definitely worth checking out to explore some
hidden gems
. I even stayed in a
hotel
which took part in the Open House weekend! The 2018 dates have not yet been announced.
Follow the Chicago Riverwalk
The waterfront pedestrian walkway running along the Chicago River is a good alternative to the Lakefront Trail. It runs past some iconic Chicago buildings and has recently been expanded. There is plenty to do along its length, with floating gardens, street food vendors in warmer weather and kayak and bike rentals. It's a popular jogging spot and if that sounds like too much effort, you can jump on a water taxi or a boat sightseeing tour.
Meet the residents of Shedd Aquarium
Say what you will about zoos and aquariums but they can play an important educational and conservational role when managed well. Shedd Aquarium is one of those places – there is a huge focus on preservation and conservation and most exhibits invite visitors to consider and discuss our impact on environment. It's largely aimed at children who have many opportunities to learn about the animals, and interact with various exhibits. There is also a lot of information on plastic pollution in partnership with www.washedashore.org including sculptures made entirely of trash. This is an aquarium done right. Don't miss the Wild Reef section complete with realistic waves or the curious beluga whales.
Hours: 9am – 6pm (11th June – 20th August), 9am – 5pm weekdays/6pm weekends (21st August – 11th June)
Price: From $39.95 or free as part of the Chicago CityPASS
---
The Trip 
What: Chicago is the third largest city in USA. Its nicknames include the "Windy City", "Second City" and "Chi-Town". Chicago is famous for its architecture and is an important international business hub.
Where: It's located on the banks of Lake Michigan in the state of Illinois.
Getting There: There are regular flights to Chicago from many European airports, usually with a connecting flight in US or Canada. I flew with Air Canada from London Heathrow via Toronto and returned via Montreal (£400/$525 return, flight time around 10 hours). Direct flights are shorter but more expensive. Chicago O'Hare International Airport is a major hub and is in the top 10 busiest airports in the world.
Getting Around: The "L" train is a great way to get from the airport to downtown as well as around the city, Tickets from $2.25 but 1/3/7 day passes ($10/$20/$28) are also available. Visit http://www.transitchicago.com/ for more info.  However, the most convenient way to get around is by Uber – the ride sharing app is easy to use and very cheap. It quickly becomes your first port of call when trying to get from A to B, especially at night.
Where to Stay: I stayed in the amazing Freehand Chicago. A hotel/hostel hybrid, it's got a seriously cool vibe with an award-winning cocktail bar, plush interior and its own coffee shop. It's also housed in a classic 1920s building that even took part in the Chicago Open House weekend! I felt quite privileged to be staying there!
Chicago CityPASS: If you are spending a few days in the city and are planning to see all the major sights, the Chicago CityPASS might be for you. It includes admission to five different attractions as well as gives you VIP entry to some places. It's great value for money (you save around 54% compared to buying tickets individually) and you can use for nine days from the moment you activate it, giving you plenty of time to explore. Chicago CityPASS costs £80/$100
More Info: For more information on things to see and do in Chicago as well as help with planning your trip and recommendations, check out Choose Chicago – The Windy City's official travel guide and website!
Disclaimer: I received the Chicago CityPASS, a Big Bus Tour ticket and a 3-Day CTA pass with compliments of Choose Chicago. Big thank you for making my trip so memorable. All opinions and recommendations, as always, are my own.
Pin This: